What is geofencing in Madison and how can it be used with my security system?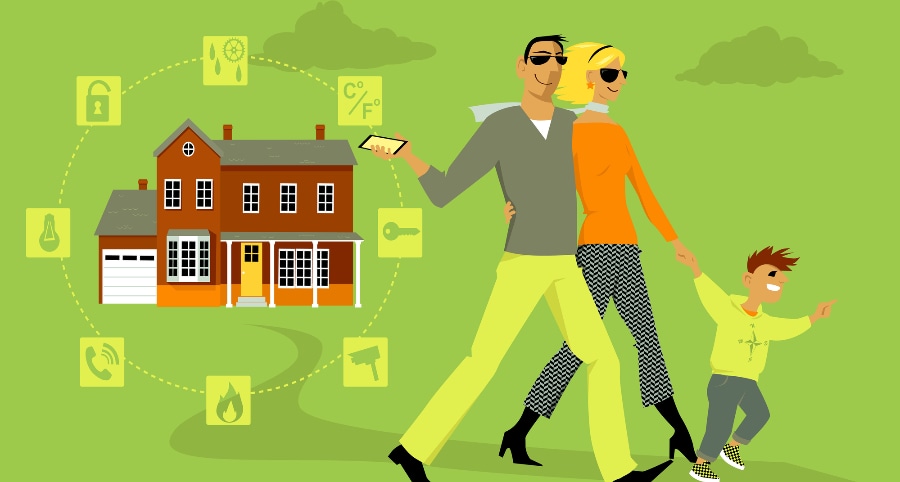 Despite all the fantastic things new home security systems are able to do, there is still a human variable involved. While it's true you can lock your main entry, shut off your smart lights, and even adjust your temperature levels from your smartphone, you may still forget to do so. But what if you were able to have your home's components instantly update simply according to your location? It can be done with geofencing.
Find out more about this functionality and how it interacts with your Madison home security.
How does geofencing work?
Geofencing works by initiating a virtual geographic perimeter around a defined spot, such as your house. This border is usually generated through Global Positioning System (GPS) or Radio Frequency Identification (RFID) technology. You can turn on geofencing through your home security mobile app. After setting up the virtual boundary, your system will detect your phone's location. When that is done, your home can discern whether you are inside or outside the designated zone. Now you can set up what actions you want to happen as you depart or come home.
How to integrate geofencing with your Madison smart home
You'll discover a range of possibilities when utilizing geofencing with your home security. Before hooking up your system, considering specifically what you are able to configure through your cell phone app is a good idea. There is a an undeniable security bonus as you can have your system automatically secure your doors, engage your alarm, and even close your garage door while you exit. Conversely, when you return for the day, you can use geofencing to open your garage, unlock your main entry, or turn on lights.
You'll appreciate extra convenience and the opportunity for utility savings along with enhanced security. Just think about being able to change your home's comfort levels instantly according to where you are. There's no point in using your HVAC system at max effort when you're away. Instead, you can have it promptly adjust when you exit and then resume your preferred settings upon your return.
There are numerous implements you might control via geofencing, including:
Smart thermostats
Door locks
Smart lights and plugs
Garage doors
Video cameras
Motion sensors
Seeking a geofencing alternative? Configure schedules and automations
In addition to geofencing, modern home security systems permit you to program schedules and automations. For example, you might program your entrances to secure or outside lighting to activate at specific times each day. You may even have multiple actions happen at once when you're turning in for the night. Or you might set customized "If This, Then That" rules like disengaging your locks whenever a safety alarm is tripped.
Turn to Vivint for home security geofencing in Madison
Take advantage of home security geofencing in Madison by turning to the professionals at Vivint. Our modern smart homes will take your convenience and security to a new level. Give us a call today at (608) 470-6808 to start customizing your system.
Areas Served Around Madison By Smart Security Specialists Your Local Vivint Authorized Dealer